17 Mar

Beliefs and Behaviors – What You Need to Know to Make Change Possible

Understanding the inextricable link between beliefs and behaviors is vital for effective leadership

Picture this: You're in a meeting, and an idea crops up. You agree that the idea is probably the best solution for the latest problem, but it doesn't feel quite right in your gut. Perhaps your current behaviors don't align with the belief of the solution. For example, if you're a leader who values your employees and the solution is to layoff an employee due to budget cuts, you will feel poorly about that decision and question whether there is a better alternative. However, if you're a leader who cares more about the bottom line than laying off an employee, you won't feel nearly as bad.

Think about how this applies to your Team. As you make changes or introduce new ideas, how are you making sure that your Team's beliefs align with the changes?

As a leader, understanding the link between beliefs and behaviors has huge implications. It's also important to understand that beliefs can and do change. The pandemic is a perfect example of how beliefs changed in regard to remote work.

Here, Forbes discusses how leaders need to focus on changing behaviors before beliefs. If we go right for someone's belief system, we risk losing our Team members entirely.

Think about what drill sergeants do to their troops at basic training. They change the trainees' behaviors from our civilized and moral life to one that emphasizes eliminating other lives. They do this by chanting cadences during marches and runs, envisioning the enemy when they're shooting at the range, and talking about and they highlight the enemy throughout classroom work. It slowly but surely changes the trainees' beliefs into "killing machines."
 "Challenging someone's beliefs, and as an extension, their identity, can have an adverse effect. In fact, we are more likely at times to harden our beliefs or close ourselves off to another perspective when our beliefs are attacked." ~Khalil Smith
Action Steps to get both beliefs and behaviors on the same track to achieve desired results:
Make sure, as a leader, your behaviors and beliefs align. If you say that your employees are your top priority, but you never return emails, you talk about them behind their backs, and you snuff them at meetings, you are obviously not aligning your beliefs with your behavior and you will lose credibility among your Team.
If you want to make change in your organization, start with changing behaviors before expecting beliefs to shift automatically. Do you want to eliminate wasted time at meetings and increase productivity? Stop holding unnecessary meetings. Model what efficient productivity looks like. Compliment those that are productive. Before you know it, your team will start to do the same, and their beliefs will edge towards increased productivity instead of idle work.
Changing beliefs is a cyclical process: Start with changing behaviors, which change beliefs, which change the culture, which, in turn, affects your business results. No new change or initiative will be successful without considering how minor behavioral changes can alter our own beliefs.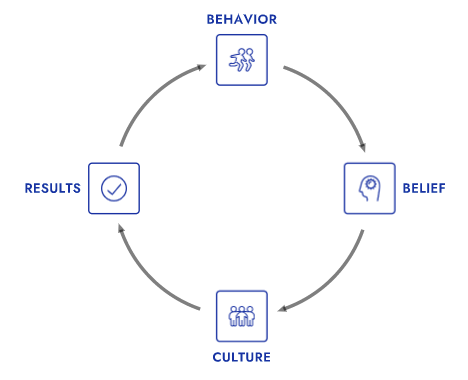 Utilize the belief cycle to back plan. If you want a certain result that doesn't exist, reverse the arrows on the cycle. First, think about what your culture needs to look like to create the appropriate result. Then address the belief behind the result. Now that you know what the beliefs need to be, start altering the behaviors to make the result possible.
Laura Colbert Consulting Programs:
Lead Well: For Newly Promoted Leaders is an 8-week program that will help your newly promoted leaders thrive as they move from peer status to power status. Click here to download the one-pager. Are you a good fit for this program? SIGN UP NOW! Book a free 30-minute consultation with Laura to make sure this is the best fit for you. NEXT PROGRAM STARTS IN JUNE.
The Trusted Advisor Program is my most intensive 1-on-1 program. Within 90 days, you'll gain habits that create breakthrough success. You get personalized coaching and support, relentless accountability, and commonsense action steps that get results.
Additional Offerings: 
Join our central Wisconsin in-person or online Impactful Leadership Lunch. Join like-minded leaders during this monthly mastermind lunch group to improve your business efficiency, boost employee retention, and get you focused on doing what gives you joy.
Are you looking for a Keynote Speaker at your next event? I use my past experiences and knowledge to show you how to be the best version of yourself, surround yourself with the right people, and build highly productive teams.
Book:
Sirens: How to Pee Standing Up – An alarming memoir of combat and coming back home. This book depicts the time of war and its aftermath. It seamlessly bridges the civilian and military divide and offers clarity to moral injury and post-traumatic stress.